Paella Valenciana.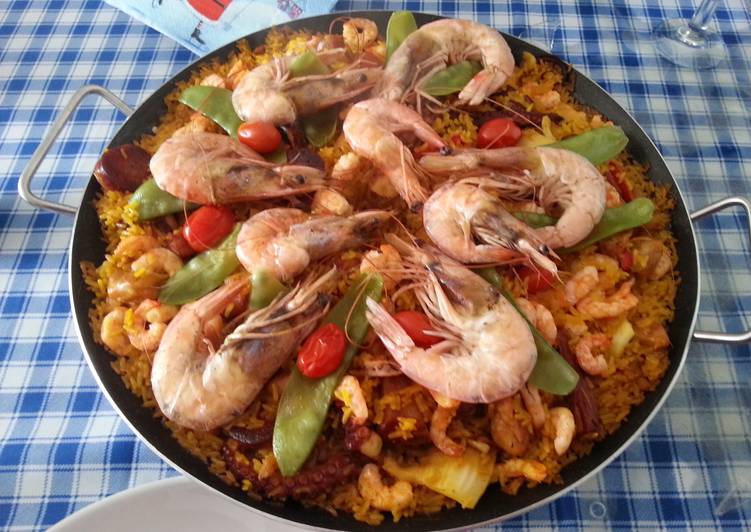 You can have Paella Valenciana using 18 ingredients and 10 steps. Here is how you cook that.
Ingredients of Paella Valenciana
It's 1 of big onion, peeled and chopped.
You need 1 of small red bell pepper, seeded and chopped.
It's 1 of small yellow bell pepper, seeded and chopped.
You need 2 cloves of garlic chopped.
Prepare 1/2 kg of boneless, skinless chicken thighs, cut into bite-size pieces.
Prepare 1 cup of Spanish chorizo chopped.
Prepare 1 cup of smoked pork ribs cut into bite-size pieces.
It's 4-5 of cherry tomatoes.
It's 1/2 teaspoon of saffron threads or 1 pack of paella spice mix (i like to use Carmencita).
It's 1/3 cup of olive oil.
Prepare 3 cups of short-grain Spanish rice or other short-grain rice.
You need 1 of small octopus, previosly cooked.
Prepare 1 cup of cleaned squid.
You need 3 cups of shrimp, peeled and deveined.
It's 8 of jumbo shrimps.
You need 1 cup of pea pods.
You need of Salt and black pepper.
Prepare 4-5 cups of hot water.
Paella Valenciana instructions
Prepare all the ingredients.
In a medium-size paella pan over medium-high heat, heat the olive oil..
Add the chorizo and fry for about 5 minutes. Add the pork ribs and cook for another 5 minutes. Add also the chicken to the pan and cook, stirring occasionally, until browned, 5 to 6 minutes;.
Add the onion and sauté until just start to tenderize, 3 to 4 minutes;.
Add the peppers and garlic, and sauté for more 3 to 4 minutes;.
Add the rice and toast, stirring frequently, until it just becomes translucent, 2 to 3 minutes. Add the saffron or the paella seasoning;.
Add enough of hot water to the pan to just cover the rice, and bring the liquid to a boil. Reduce the heat to medium, and simmer for 10 minutes;.
Arrange the seafood (octopus, squid, peeled shrimp) and cook for another 8 minutes. Put more hot water if needed;.
Add the jumbo shrimp, cherry tomatoes and peas over the rice, cover with aluminum foil, and continue simmering until the seafood is cooked, for about 6 to 8 minutes..
Remove the cooked paella from the heat and let rest for 5 minutes before serving. Sprinkle some olive oil on top..